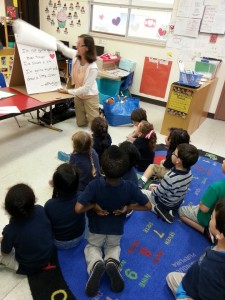 "Listen and Learn"
Here is a quick catchy tune that can be sung during transition periods for teachers and parents to settle kids down.  It also encourages children when things are challenging for them.   "I'm not gonna quit even though I've slowed a bit".  Music and words originals by Hope Mucklow.
"So Much Better to Be Happy":  Another original by Hope Mucklow which is great to sing when one of your students or children are nursing a "poor me" attitude or whining.  You can't sing and be grumpy at the same time!
"Move It"-  This one is from the PBS Series "Super Why".  But instead of using their exact words to encourage exercise (which is great), I change the words to "Move it, move it, LISTEN, n-o-w." To encourage kids to listen whey they aren't (o;  Try it!