by Hope Mucklow, Author, Teacher, Blogger, and Coach
It started with my teen wanting to go to the local Barbie Premier. Not only did she want to go, she wanted to buy a pink dress and a blond wig. Thankfully, it was just a wig and not hair dye. Even better she wised up financially and gave that up. But she did succeed in the whole shopping endeavor. What's a parent to do?
Option #1: Adamantly oppose which could create rebellion. See the blog listed below: Does every teen need to rebel?
Option #2: Let her be her and go do whatever she wants with her friends. After all we can't control them forever and this is essentially what the peer pressure at school, society, and the Barbie movie is all about.
Option #3: Go with her and discuss the movie's strengths and weaknesses following.
Of course I chose #3 deluding myself that I'm wonder mommy. (See blog on that.) The week started out well. Time at the ever so posh Boca Raton Mall turned out to be an amazing Mother/Daughter Day Out. (For those of you who know me, this is a big deal. I h-a-t-e shopping especially the malls. But the Boca Mall is a bit more tolerable for me with its sky light windows.)
Anyway, Nordstrom's just started their Anniversary Sale so I took her. There was one perfect pink dress in her size on sale. And Grandma's check for her birthday covered it and some needed undergarments to allow this dress to lay properly.
Now we had coordinated the week prior with a friend from the youth group and the wonderful female youth leader to join us for the movie and purchased the tickets. But then I saw Krista's post: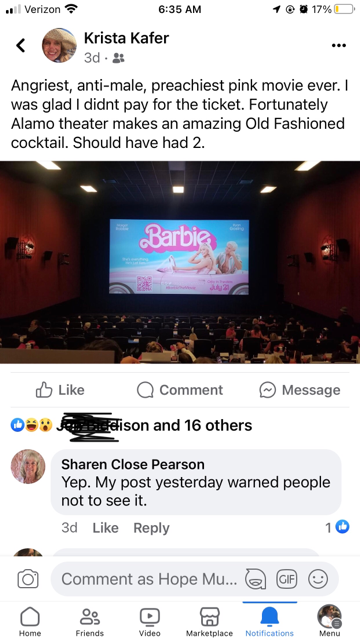 Oh no, now what? Like I didn't expect this with what Hollywood has produced over the years? Good grief, hadn't I contemplated what Mattel's Barbie had done to me as a child growing up in the 1970's? This doll didn't empower me at all, Rather it was the tool another child used during play to introduce me to stripping, being sexy, and going to bed with Ken much less the unrealistic plastic body image.
Funny how we've been told that Ruth Handler created Barbie as an alternative to baby dolls and to be a roll model to girls that "they can be whoever they want to be." While some of this may sound great, it is not at all Biblical or mentally healthy. Yup, I'm going to claim its bad for mental health. Why? How?
First of all, people canNOT always become who they want to. Accepting what a person can and cannot do is essential to having a healthy relatively happy mental outlook. Life is full of unhappy individuals who don't make enough money, are overlooked for promotions, denied access to xyz and/or have physical situations that prohibit. Limitations are part of the human experience that the scientific revolution, atheism, and feminism deny. Uptonian lies like these are one of the reasons why mental health illnesses are on the rise and fortitude is lacking.
The next problem with the Barbie Movie messages is the wisest literature of the world teach the virtues of courage, temperance, and prudence in collaborative cooperation to one another. When one practices courage without prudent self-regulation one usually engages in foolish risks and endeavors that often lead to disasters and life altering consequences, especially mentally.
For the not so big risk takers lack of modesty leads to disrespect of one's body and incites further disrespect from others. The same is can be said for lack of self-control. All of this leads to poor life relating experiences that contribute to low self-esteem, anxiety, and/or depression.
Now the recent Barbie Movie and its fans are going to rush to blame the men Ken's of the world. This is what the immature do. Yup. Name calling has a place and it's time to do it. Those who blame others for their insecurities, weaknesses, and poor choices are usually immature. There are times when someone has been completely disrespected, violated, and a true victim, but the majority of the lingo on this topic in our culture is the former.
Watch me contradict myself now. The impressionable children are victims of entertainment like this. How are young girls going to treat boys at school after watching this movie? How are they going to treat their brothers?
Oh and Barbie resists Ken's kiss in the movie, how great right? If only Hollywood was teaching sexual self-control here, but they're not. Rather they are working to condemn sex and make us all compliant sexless robots. Consider the new genre of totalitarian novels that has emerged since the 19th Century Scientific Revolution specifically Orwell's 1984. Sex is basically forbidden and allowed only to procreate once a year. Larry Arnn, President of Hillsdale College articulates this precisely in the December 2020 publication of Imprimis (see below for the link).
Rapping up, parents, teachers, and youth leaders, it's not just as easy as the three choices I started this blog out with. It's not so "black and white." While Option #3 may seem ideal, even this choice only works if you are a good role model and have cultivated a good relationship with the child/teen. So start with yourself. Heal those childhood and adult emotional wounds that fester and trigger easily. Be honest with your kids when you inappropriately lose it or make a poor choice. Stop the blame game. Take responsibility, be real, and embrace the realities of life. Stop being rigid and plastic yourself.
Lastly, check out Krista Kafer's and Sharen Close Peterson's further writing on this movie. I'm indebted to their inside connections, viewing, and comments as well as our wonderful youth director Mackenzie at Crossbridge Church who wound up taking the girls without me.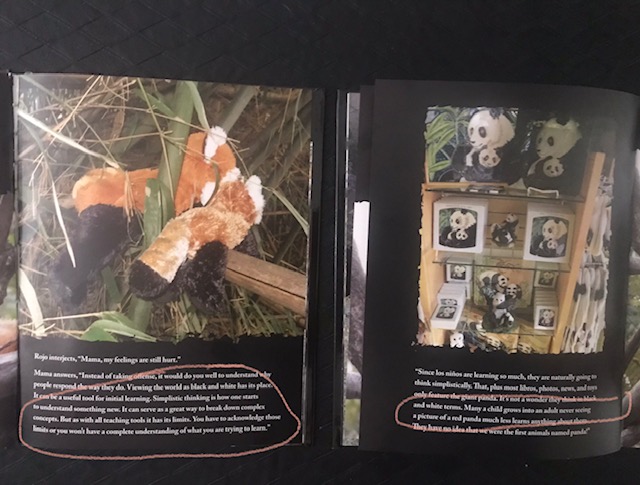 #Barbiemovie #TheBarbieMovie #Hollywoodinfluence #culturalimpacts #parenting