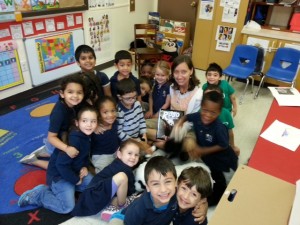 Local* events usually are complimentary with 15+ sales of the book at retail value of $14.95 + tax= $16.00.  Out of town engagements require an appropriate travel stipend in addition.  Visits without the sale and signing of Rojo can be coordinated for a modest honorarium.
School author visits go best when children are familiar with the story, "Rojo, The Baby Red Panda at the Zoo."  The first step is to acquire a copy and to get the faculty reading and using the text.  One teacher read half of the book and stopped to leave her classes hanging in anticipation of my visit.
Rojo's reading level is for 6+ years old. The pictures bring levity for the 6 year old, but the numerous deep literary themes take it into the long run of life for the for the whatever year old.  Therefore,  programs vary depending on the age and needs of the group.
Ages 4-5: The Bilingual Story and Song Program– Hope combines singing and teaching her original songs before and after she reads a modified version of Rojo with her stuffed animals.
Age 6:  Early in the school year consider the Bilingual Story and Song Program.  Later in the year as their reading level is growing consider the school age program (see below).
Ages 6-12: School Age Program Bully Prevention– Hope reads the story and then teaches kids how to draw giant and red pandas at the end to tie in the main theme of  "No matter if you are big or small, black or white, you matter!"  Click on the following green links for accompanying coloring pages.  RojoWhether you are big or smallEspanol2 RojoWhether you are big or small
Ages 10-14:  Theme Discussion– Teacher/students pick which theme (size, race, viewing the world as black and white, taking things personally,  the limits of learning, balance, eating, fear, work ethic, or pity party mentality) that they want to discuss in depth.
Age 10-14: Endangered Pandas Scientific Workshop– Hope focuses on an in depth comparison of the giant pandas and red pandas with updates on their status.  Kids leave the workshop with a good contrast and comparison exercise and ways they can help pandas in the wild.
Ages 10-14: Writing Workshop– Hope tells the story about how she wrote Rojo.  Then she leads a lesson on having students write a sequel.
Parents/Teachers: Just Sing and Story Tell! Workshop designed to encourage those who are guiding children different ways that they can use songs, Rojo, and its messages to raise a happier more respectful generation.  Learn fun motivational songs to use during transition times and to get your kids to move when they aren't listening, whining, or pouting.
Parents/Teachers: How to Learn Spanish- This workshop teaches leaders how they themselves can learn Spanish while teaching it to their children.  No set curriculum is promoted.  It's more about learning how to have fun and learn practical conversational Spanish while teaching your kids.  Hope will teach some of her original songs, Counting to 20, Days of the Week and her modified Spanish alphabet song and Months of the Year.
Women's Groups: Guest speaker events that explore the conference leader's choice of theme (Combating Depression and Anxiety,  How to Think Outside the Box, Limitations of Learning, Mothering for the Journey, or Overcoming Fear). *Hope wrote her way out of a major depressive episode when she wrote Rojo.  Her desire was to impart all the lessons she has been struggling to apply as an adult to her daughter as she is growing and learning through childhood.
Local* defined as where we are scheduled to be.  That's mostly Central Alabama these days, but can be South Florida,  the greater Washington, D.C. area, or West Central Pennsylvania.