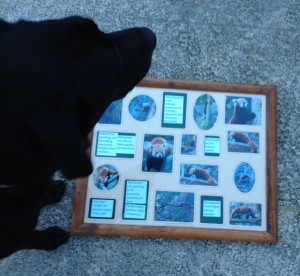 No, it wasn't "Labrador Day."  That was "Labor Day."  Yes, I still love you,  but you aren't an endangered species.  Special days like International Red Panda Day are set aside to draw awareness to issues that have been overlooked or need attention.  Ok, yes then there are days, like Mother's Day,  Father's Day, and Grandparent's Day that have been named in order to make money.
Speaking of such, don't be like the mothers, fathers, and grandparents who get easily get their feelings hurt on those days because a card didn't arrive.  That's not the point.  In fact that's one of the messages  I wrote about in Rojo and why The Red Panda Network gave it a rave review.
The point is we have the privilege to celebrate special days for special individuals who have made great contributions to history, like Martin Luther King Jr.(MLK Jr.) Day, living organisms who are endangered, or special issues like Bully Prevention Month (which is next month by the way). These are days were we can learn more about why we "should" care or try to make a difference.
So that's what we're doing to do!  First learn more ourselves, share that learning with others, and most importantly have a great time doing it.
First stop is today at The Girl Scout Family Festival Miami-Dade North at Palm Springs United Methodist 5700 W 12th Ave., Hialeah, FL 33012 from 5:00-8:00 PM.  Thanks to Thrivent Financial we'll be raffling off copies of Rojo, The Baby Red Panda at the Zoo and some t-shirts.
Next stop is Saturday, September 17, 2016 from 1:00-5:30 PM at Metro Zoo Miami outside the new gift shop.  Which you don't have to buy a ticket to enter the zoo to visit.  Its right outside the entrance where you can enjoy the new flamingo exhibit.
Lastly, try a more humble approach.  Be willing to listen and learn from others instead of wishing it were you getting all the attention. We love you more than you can imagine.  Don't waste your time with low life attitudes like jealousy and resentment.  Channel your anger into a great cause like saving red pandas instead.
*4 photos in the collage depicted in the first image are compliments of Brian Heath.  A random dad who shared his photos with me the day I took most of the photos of the late Shama at the National Zoo that I used when illustrating Rojo.  You're a better photographer than I Brian.  Thanks so much for sharing your talented hobby with me.  It was a pleasure to meet you and your family that day.