Recently I was asked what picture comes to mind when I think of patriotism.  The image that came to me was Lady Justice.  We saw a beautiful Greek marble sculpture of her at Jasmine Hill Gardens in Wetumpka, Alabama of which I later regretted not buying since it was sold when we went back.
This prompted me to look up images on the Internet which led to some fascinating learning.  Lady Justice is often accompanied by Prudencia .  Who's Prudencia?  That's what I asked.  I was delighted as to what I learned.  But first, allow me to explore why we are so ignorant of Prudencia.  It comes from the word prudence.  A virtue that has been mocked as of recent era.  Think about it.  How often do you hear, "Oh, don't be a prude!"
This slogan is popular during times of entertainment and lighthearted desires that are more concerned with an immediate personal high usually at the cost of another's misfortune of some sort.  This motto takes its victim's down the slippery slope of poor judgement.  Take a look at the results summarized in this chart that it will ultimately yield.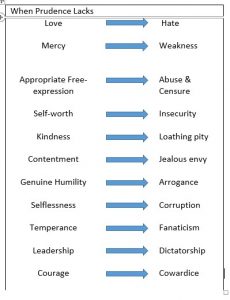 I created the visual above inspired from a summary Wikipedia's overview on prudence.  The results are tragic.  So why do so many propagate this saying?  I believe it stems from the power of peer pressure.
When studied prudence and wisdom are synonyms.   They are more or less interchangeable in meaning.  But over time that they've been separated.  Otherwise who would listen to "Don't be wise?"  Doesn't in mean the same thing as "Don't be a prude?"
Prudence is known as the auriga virtutum the power behind all of the virtues.  Why wouldn't we want to be associated with that?  Is evil that popular?  According to the book of Proverbs, it is especially common with the youth otherwise known as pre-teen, teen, and young adult of today's standards and the wicked.
So if you would take time and consider, what would be better for you, your family, your community,  your country, and ultimately the world?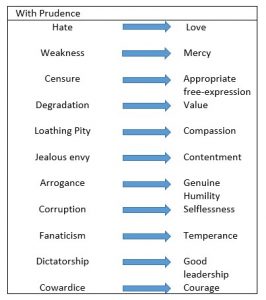 Honestly assess what power is ultimately needed to pursue such virtue.  Then click on this link to hear a fantastic song by Michael Card that summarizes it well:The Way of Wisdom.
For further reading:
http://sjohio.org/assets/templates/mycustom/ethereal/files/lesson/holyspirit/Lesson27ATheCardinalVirtueof%20Prudence.pdf
https://en.wikipedia.org/wiki/Prudence