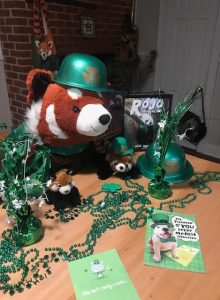 Click St. Patrick's Day 2015 to download a blank copy of the following to color.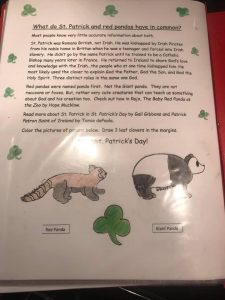 You don't have to be Irish to enjoy celebrating what St. Patrick accomplished.  He wasn't Irish either.   Find a great role model and inspiration in who St. Patrick was Romano British, not Irish.
He was kidnapped by Irish Pirates from his noble home in Brittan when he was a teenager and forced into Irish slavery.  He didn't go by the name Patrick until he trained to be a Catholic Bishop many years later in France.  He returned to Ireland to share God's love and knowledge with the Irish…the people who at one time kidnapped him. He most likely used the clover to explain God the Father, God the Son, and God the Holy Spirit. Three distinct roles in the same one God.
Have fun, but don't get caught up in the distortions and myths about four leaf clovers and finding gold at the end of the rainbow.  Gifts from the Giver, The God of whom St. Patrick spoke, often are turned into useless idols and symbols that mislead.  Pray for the Holy Spirit of which St. Patrick taught to discern what is true, noble, right, worthy to believe and to follow.