Earlier this week I experienced the most delightful shopping experience that I now share with you.  I felt genuinely respected and valued by the manager and her assistant.
It all started when we were waiting to yield onto Route 1.  My daughter sighted Safespace Foundation, Inc's Thrift Store.  I hesitated to ask her if she wanted to stop, because I was tired and had a lot to do at home.  But recalling from past positive experiences when my daughter would do this, I decided to step out in faith. Maybe some provisions were waiting for us to purchase as we squealed in delight at our bargains.
I parked the car and we sauntered along the sidewalk towards the door. How strange, the door was locked and space empty.  Elise noticed that the space next to looked like the store we used to know.  So we proceeded around the building in search of another door.
We stepped inside and saw a young man busy organizing A LOT of stuff.  The place was jammed full of clothing hanging on racks with barely adequate space to breathe, much less move. Items on shelving lining the walls. This place was definitely under renovation!  Could it possibly be open for business?  I asked. The pleasant reply said,"Yes, mam! Come on in."
I replied, "It looks like you're moving." The manager said, "Yes we are.  The space adjacent to us got rented out by someone else.  But we still have this area and the room in the back."  "Room in the back? What's that?" I asked. "Furniture.  Are you looking for any furniture?" "No.  Just a bookcase.  Do you have any over there?" I asked.  She answered, "Just the one next to you." "But you need this one.  It's holding all the stuff your selling" I replied.
"That's not important. We can move that stuff" she said.  "But it's really full of stuff!" I argued. "He'll take care of it" she assured.  He happily lifted his head from the box he was processing and said, "Yes, Mam! There's no problem with that. " "Well, alright.  Let me see if it'll fit in the car first.  Can I use this broom as a measuring standard?" "Oh, I have a measuring tape over here."
That courteous guy walked out with me to see my car.  Putting the back seat down wasn't going to be enough.  So I turned to return to the store.  He gently said, "Mam, it'll fit if you put down the front seat too."  "Good point.  Let me think about it while I shop." "Take your time, Mam.  I'm here to help you when you are ready.
Well, we didn't waste a minute.  We started digging for those treasures.  On the side hung a skirt that would add nicely to my wardrobe. But would it fit? And how about those pants? My daughter entertained herself by clomping around in the Liz Claiborne high heels that she found.  I moved onto the CDs. I found The Best of the Gypsy Kings and many other gems!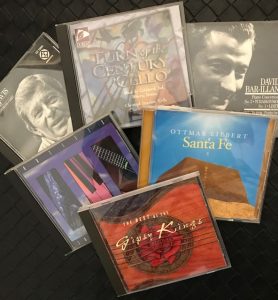 I found a couple other pieces of clothing, but I questioned if they would fit.  Just like their other space, they had a small one person restroom utilized as a changing room too.  I opened the door to artistically painted walls that welcomed far warmer than those cold changing rooms at most clothing stores. The bathroom part of it sparkled with a clean shine and a large mirror allowed for me to view how the clothes fit. I felt respected and worthy!
Now that I had found my treasures,  it was time to pay and get that bookcase in the hatchback.  That young man continued to impress us with his outstanding customer service.  He gingerly nudged it inch by inch into my car cautious ensuring that no damage would occur.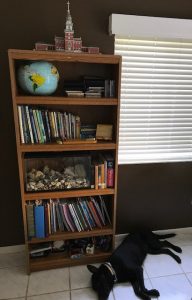 We've been home now for a couple of days.  We're absolutely thrilled with our bookshelf and shopping experience!  We don't have an ounce of buyers remorse or bad feelings from this retail excursion.  In fact, it stands out as one of my finest topping the days when I shopped at Lord & Taylor and Nordstroms for business attire.
What I love most is how well these two individuals treated us.  It exemplifies that what matters most is how people are treated.  It's not really about what the store looks like.  The best atmosphere is one created by an attitude of gratitude, respect, and willingness to serve. To top it off, we feel great knowing that proceeds from our purchases are going to